SPONSOR A PATRIOT
Thank you for believing in the health and wellness of our amputee veterans! Your annual sponsorship of a player is an incredible opportunity to establish a bond with your favorite player and to promote his or her successes on and off the field!
Through this sponsorship, you will receive:
Custom Button Up Jersey in your size with your Patriot's Name and Number
Annual Membership Designation & Challenge Coin
If you sponsor 5 or more Patriots, you will be upgraded to a LIFETIME Membership!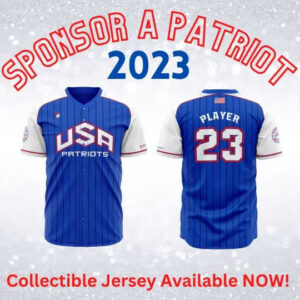 Sponsor your favorite Patriot below!
Need help choosing your favorite? Check our our Player Bios!